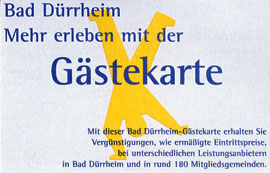 Your guest – card is a mean by which many entrance fees for events in Bad Dürrheim can be bought at a reduced price or even free of charge. All these events are financed with the health resort tax on visitors.

With your guest – card you will receive one free entrance to "Solemar", you may enjoy the dance-nights in the assembly-rooms at the health resort, you may go for a guided walk or cycle-tour or you can visit the "Kachelmann meteor – station and even more.
Reduced entry-fees and user fees will be granted for rent-a-bike, for fun-golf, golf and archery, for the carnival-mask-museum "Narrenschopf", for "Solemar" and the Black Forest Sauna. You see, a wide range of activities awaits you – make use of it for your own personal well-being.
day for adults
day for children from 12 to 18 years
Day of arrival and day of departure are counted as one day only.
Spa-zone I
includes City of Bad Dürrheim
Spa-zone II
includes all villages belonging to Bad Dürrheim, which are: Hochemmingen, Öfingen, Sunthausen, Biesingen, Oberbaldingen, Unterbaldingen and the camping-site in Sunthausen
2,50 € 1,10 €
1,10 € 0,50 €
Health resort tax on visitors to be paid in full amount up to 42 days of stay, starting with 43rd day a reduction of 50% will be granted.
Handicapped persons (80% handicap) receive a reduction of 20% and their necessary escort is free of health resort tax.